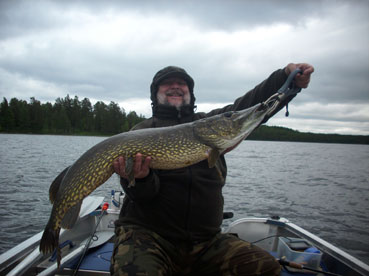 FISHING
Our cottages are located in the middle of the eastern shore of lake Lelång.
The lake has a total area of 5000 ha and the distance from the south end to the north end is about 50 km

You can buy a fishing licence for 200 SEK per week and family from us.
The money goes to a association of landowners round the northern part of the lake -"Norra Lelångs fiskevårdsområde", which uses it
for fish preserving actions as letting out different species of fry in the lake.
The licence gives you access to fish in a total fishing-water area of 2500 ha.
Available fish species: Perch, Pike, Roach, Rudd, Bleak, White fish, Vendace, Salmon, Bream, Roach, Burbot, Brown trout, Char, Eel, Smelt

It is possible to rent 4-stroke boat engines per day or per week.